Report Ad
Lower Your Utility Bill up to 90%! It's Free to Switch and Guaranteed. (Texas)
Posted: Saturday, March 2, 2013 9:37 AM
---
Reply: click here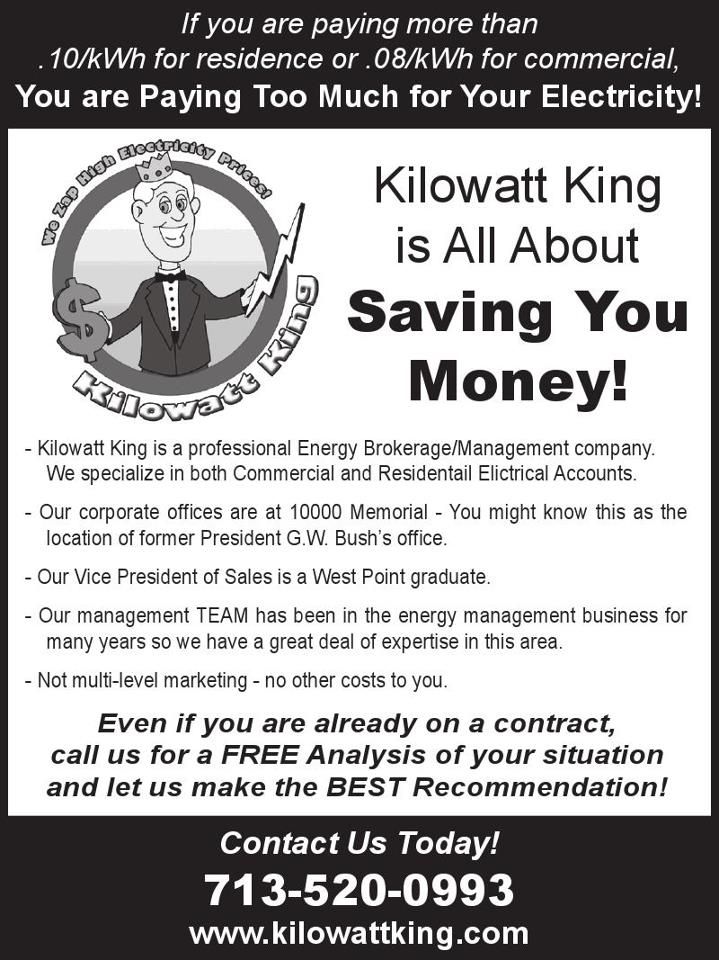 Residential rates are still very low - .091 /kWh for 12 months for homes in the Houston area and .081/kWh for 12 months for Dallas residences.
Commercial rates are between .55/kWh and .08/kWh depending upon load and area.
Kilowatt King Is All About Saving You Money
Kilowatt King is a professional Energy Brokerage/Management company. We specialize in both Commercial and Residential Electrical Accounts.
It's Free to Switch and Guaranteed.
Kilowatt King Has a Plan That's Right For Your Home and Business. Sign Up Today. "WE Turn YOU on"
http://kilowattking.com/
This is NOT multi-level marketing -- no cost to you -- ONLY SAVINGS!!
Kilowatt King helps its many customers obtain the best possible price in their electrical power needs with the most favorable terms and conditions. We do not represent the electric companies, nor do we sell power or are we tied to any particular electric supplier. We work with many of the Top Tier 1 Competitive Retail Electric Providers (REPs).
http://kilowattking.com/
Because of our longevity in business, our 110% belief in ethics and our strength with many large commercial accounts, we are able to obtain the best prices and terms to include offers of credit that otherwise might have been denied. Because of our strength and reputation, we often have the biggest and best REPs bidding for business with rates/conditions that are not available to other brokers and certainly not to the general public.
http://kilowattking.com/
Even if you are already on a contract, please send us this information -- we can analyze your situation and make the BEST Recommendation!
Call/text/e-mail NOW at (832) 212-2265 to start savings, because "WE Turn YOU on"
http://kilowattking.com/
"WE Turn YOU on"
http://kilowattking.com/
• Location: Houston, Texas

• Post ID: 14624738 houston