Posted: Monday, December 30, 2013 4:10 PM
---
Reply: click here
At
Citiscape IT
, we provide computer support, network support, IT outsourcing, software services, managed services, and other services specifically catering to the Houston area Medical Practices.
Citiscape IT
is a Microsoft GOLD Certified Company and Microsoft Certified Small Business Specialist Company which provides full-service IT consulting and support for businesses throughout the Houston Metro area. Being strong advocates for independent Medical Practices,
Citiscape IT
is a trusted business partner and adviser to our customers, leveraging our technical skills, industry expertise, and extensive experience to create one-of-a-kind IT consulting firm for the regulated medical community's toughest challenges.
Citiscape IT
specializes in solving business problems using the tools of technology. We use senior level network and software engineers who are licensed by the State of Texas, insured, and certified; not "geeks for hire". Ask us about our hybrid managed services for a fixed monthly fee! Need a complementary HIPAA Security audit? Just ask!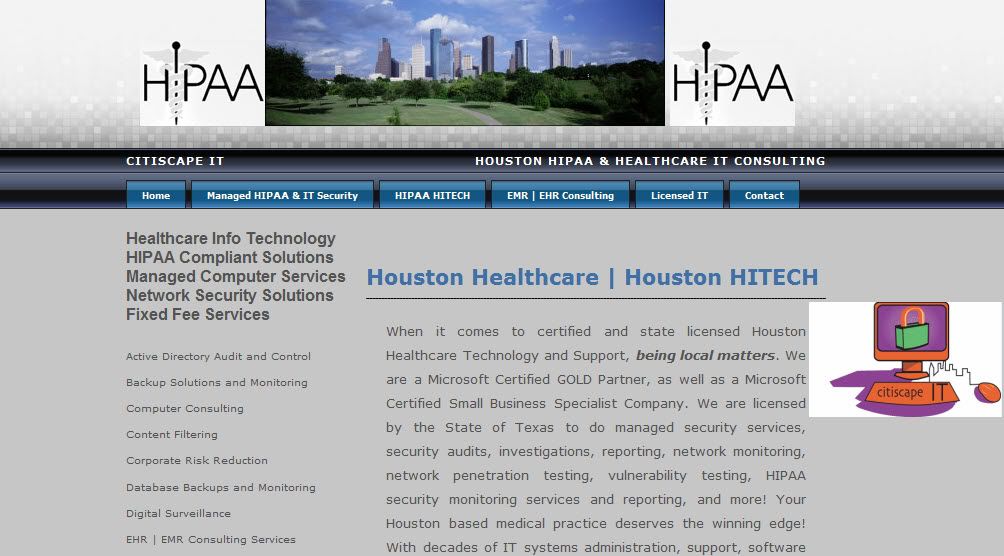 Small Business Technology Consulting / Planning and Deployments
* EMR | EHR | PPM Implementation and support
* Microsoft Server Support
* Workstation Support (Macs and PC's...all Microsoft Variants) for the office.
* Small Business Server - Installation, Configuration and Maintenance
* Windows Server 2000 – 2008 Installation, Configuration and Support
* M.S Exchange - Sizing, Installation, Configuration and Maintenance
* M.S SQL Server – Installation, Configuration, Maintenance and Troubleshooting and Integration with other applications and custom software (VB, .NET, N-Tier, on up)
* Macintosh and Macintosh Networks
Virtualization Consulting
* VMware Installation, Configuration, Tuning and Maintenance
* Parallels (Mac) Installation, Configuration, Tuning and Maintenance
Firewall and Router Integration and Consulting
* Setup, and configuration of firewalls and routers.
* Legally audit and monitor traffic and log files and provide needed reports to management.
Backup and Disaster Recovery Planning
* Backup Strategies to Safeguard your Data
* Affordable Network Attached Storage Solution with Built In Redundancy
* Remote Off-Site Backup Storage Solutions
Antivirus Solutions for network protection and workstation protection.
Security Services and 7 Point PC Tune-up:
* Save money in costly operating systems repairs, hardware replacement, and potential data/identity theft
* Prevent unfriendly intrusions from the Internet, such as viruses, spyware, malware and hack-attacks
* Operate your computer systems at their optimum performance capability
* Build a safety net to recovery in case of a computer crash or system malfunction
* Monitor and investigate local user activity and Internet user activity, email tracking and recovery, lost or deleted data recovery, file analysis
* Establish policies and procedures that help protect small businesses from illegal and criminal activity from employees on business systems
Ask about our Managed Services Package especially designed for SMBs.
Email or call for free phone or onsite consultation. Your privacy is respected and absolutely no information will be sold or distributed. Citiscape IT and its employees are licensed by the State of Texas Commission on Private Security #A15323
http://www.houston-healthcare.com
We have business references in the following industry verticals:
* Insurance
* Property Management
* Construction
* Accounting & Financial
* Real Estate & Title Insurance
* Deaf Education
* Investment Firms
* Commercial Software Development
* Law Firms
* Medical
Sorry, we do not currently offer residential services at this time. Please feel free to call or email us.



• Location: Houston

• Post ID: 9210693 houston