Posted: Tuesday, April 25, 2017 7:15 PM
---
We service the areas of Clear Lake, Friendswood, Webster, Seabrook, Kemah, League City, Dickinson and Bacliff
zip codes: 77062, 77059, 77058, 77598, 77586, 77565, 77573, 77546, 77539, 77518.
Online payment, no contracts, text message reminder, pay per service or in advance, clean uniformed workers and great customer service.
We are a safe local family business you can trust.
Lawn service for regular size house front and backyard $30 (edge, mow, trim and blow).
Schedule us weekly or bi-weekly.
Request a quote online:
Request a Quote
Visit our website for more information and details:
RAZORGREEN.net
Thank you for your business.
RAZORGREEN
Call or text:
832-524-5692
Follow us on Facebook:
facebook.com/razorgreen
Follow us on Twitter:
twitter.com/razorgreentx
You can also find us on
angie's list
(click on the picture to go to razorgreen.net)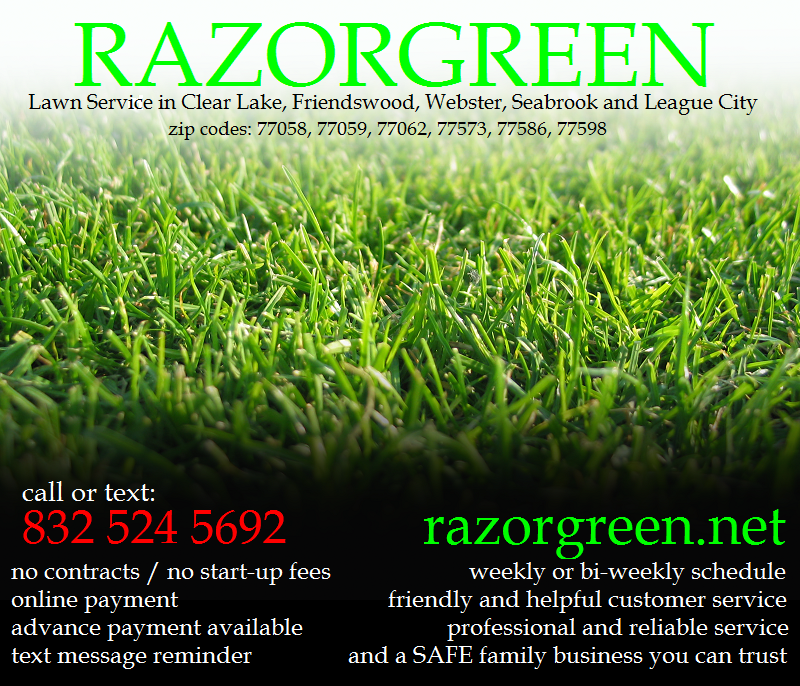 Keywords: lawn care, lawn service, lawn services, lawn care services, lawn care service, lawn maintenance, lawn maintenance services, lawn mowing service, lawn mowing services, yard, clear lake, clear lake tx, seabrook, webster, league city, online payment, pay online.
• Location: Clear Lake,Seabrook,Webster,Friendswood, Houston

• Post ID: 16305342 houston