Posted: Monday, October 30, 2017 9:11 AM
---
Areas: Clear Lake, Friendswood, Webster, Seabrook, Kemah, League City, Dickinson, Bacliff.
Zip Codes: 77062, 77059, 77058, 77598, 77586, 77565, 77573, 77546, 77539, 77518.
Hello and Welcome.
We are a safe local family business you can trust.
You will have a smooth experience when dealing with us.
We Offer:
Professional Lawn Mowing Service, No Contracts, Online Payment, Pay Per Service,
Text Message Reminder, Friendly Customer Service with Great Communication,
Clean and Presentable Uniformed Technicians.
We are simply the best in our area.
Look us up "Razorgreen" on Angie's List, Google, Yelp, Facebook, Twitter, Yahoo, etc.
Lawn service for regular size front and backyard: $30 ( mow, edge, trim and blow ) .
Schedule us weekly or bi-weekly (by schedule only please).
We also offer other services like:
Bush and Hedge Trimming, Tree Trimming, Yard Cleanup, Flowerbed Cleanup, Mulch Installation, etc.
We will make your yard look beautiful and clean.
There is nothing better than coming home to the smell of a fresh cut lawn.
Visit our website for details and to request a quote: www.razorgreen.net
RAZORGREEN
Call or text:
832-524-5692
Request a quote online:
Request a Quote
Visit our website for more information and details:
RAZORGREEN.net
Proficient, Reliable and Dependable.
Thank you for your business.
Have a great day.
Follow us on Facebook:
facebook.com/razorgreen
Follow us on Twitter:
twitter.com/razorgreentx
You can also find us on
angie's list
(click on the picture to go to razorgreen.net)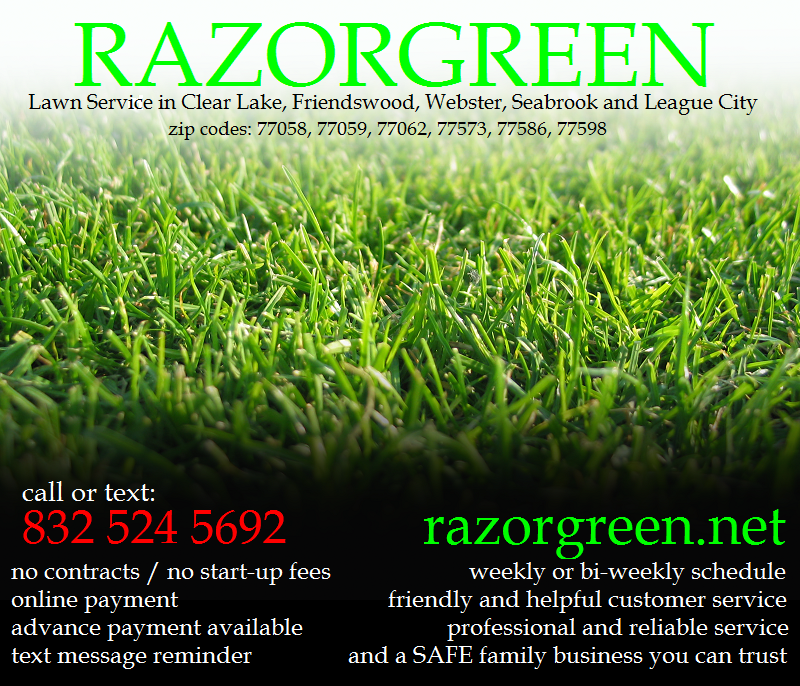 Keywords: lawn care, lawn service, lawn services, lawn care services, lawn care service, lawn maintenance, lawn maintenance services, lawn mowing service, lawn mowing services, yard, clear lake, clear lake tx, seabrook, webster, league city, online payment, pay online.
• Location: Clear Lake,Webster,Friendswood,Seabrook, Houston

• Post ID: 35720404 houston